Getting good sleep at night is one of the most beneficial things you can do for your health. If that's a problem, you may have toyed with the idea of buying a new mattress or pillow, but what about taking your mattress closer to the ground?
"Research shows that just changing your sleep system, whether this be your mattress, foundation, bed frame, or bedding, can also improve your quality of sleep and lower stress levels," says McKenzie Hyde, a certified sleep science coach at Amerisleep.com. "If you have been resting on a higher bed for some time, you may benefit from lowering it or replacing the foundation with a low-profile design."
Of course, we're not talking about putting your mattress directly on the floor. Experts advise against this to avoid dust, creepy crawlies, and buildup of mold and mildew (gross). Instead, use a low platform bed to support your mattress, yet allow air to move underneath it.
If you're tired of restless nights, here are some of the benefits of switching to a low bed frame.
1. Sleep cooler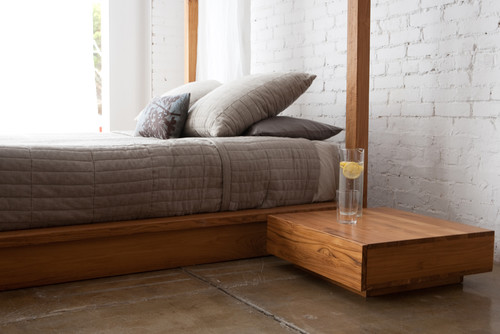 Photo by MASHstudios
If you get hot while sleeping, being closer to the ground can have you resting in slightly cooler temps.
"Heat rises, as it is less dense than cool air, and the higher up or closer to the roof or ceiling of a closed room you get, the warmer the air," says Richard Morse. He runs InsideBedroom and works in mattress and bedding sales.
Hyde says the floors in our homes tend to stay cool to the touch, even as the temperature of the air fluctuates.
"When we rest in a cooler, more comfortable position, we are more likely to slip into deep sleep and REM sleep, the two most restorative stages of rest," says Hyde.
2. Feel more cozy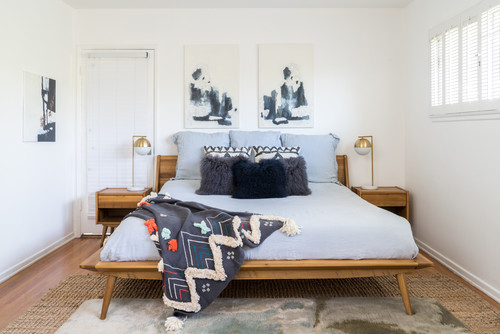 Photo by Aker Interiors
Sleeping closer to the ground can make you feel more comfortable and cozy in your bed.
"When we are closer to the ground, we tend to feel more connected—not isolated—to our surroundings. This creates a calming, more serene environment that can help us fall asleep quicker and rest peacefully throughout the night," says Hyde. "Therefore, a low-profile bed may feel cozier and promote more relaxation."
Your kids and pets will love it, too, since a low-profile bed frame is more accessible—they can jump right in with you. Plus, being closer to the ground means you never have to worry about falling out of bed.
3. Upgrade style to minimalism and modern
Photo by Viesso
By trading your standard bed frame and headboard for a low platform, you'll be getting a style upgrade to a modern, chic look.
"In terms of decor, a low-profile bed is less bulky and gives a smaller space a more open feel," says Hyde. "Plus, lower beds have a contemporary, minimalistic look that has become popular over the last several years."
And you don't even need a box spring if you get a solid base.
"Platform beds are compatible with a range of mattresses readily available in the market, which is a major plus and added value," says Morse.
4. Limit storage space for clutter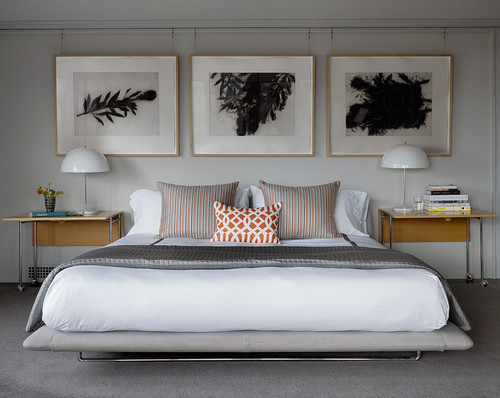 Photo by JKA Design
A low bed means you won't have as much precious storage space under the bed—but that might not be a bad thing. Under-bed storage can actually invite more unsightly clutter underneath your bed (yes, it's not totally hidden), so limiting that space with a low-platform bed will (hopefully) motivate you to keep things tidy.
5. Allow easier mobility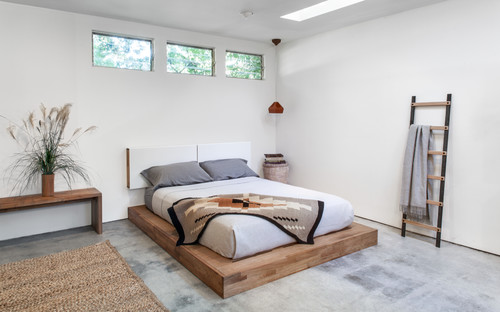 Photo by MASHstudios
"In terms of safety, a bed that is lower to the ground is easier to get in and out of," says Hyde. The old days of starting your morning by hanging your legs over the side of your bed and standing up are over.
Plus, getting in and out of your bed will really give your legs a good workout for free. Your quadriceps, hamstrings, and calves will thank you.