Spotify released its financial results for the July-September period and performance is better than expected. The music streaming platform now boasts a total of 320 million monthly active users (MAUs) which is up by 7% from the 299 million MAUs it reported at the end of Q2 and 29% more than Q3 2019.
Premium users now number 144 million, which is a 5% increase over the previous quarter and an impressive 27% yearly growth.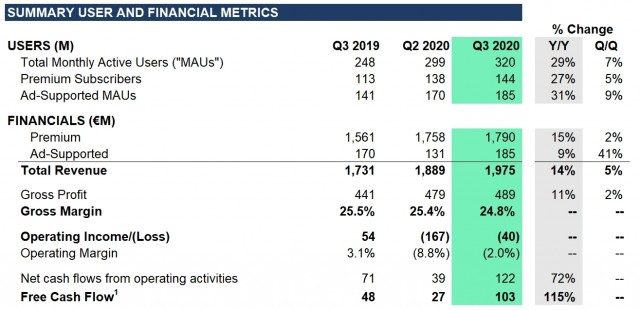 Spotify Q3 financial results
These numbers still put Spotify as the runaway leader in the music subscription services category, well ahead of Apple Music which was last reported at 60 million users back in July 2019. On a per region base, Europe accounted for 34% of all MAUs during Q3 followed by North America at 25% and Latin America at 22% while the rest of the world contributed 19%.
Looking forward Spotify predicts it will reachg 340-345 million MAUs with 150-154 million paid users by the end of 2020. Spotify is now available in over 92 markets around the globe and boasts an impressive 60 million tracks.
Source