Gardening was a popular pastime this summer, and for good reason: Homeowners fearful of the coronavirus were avoiding grocery stores in favor of growing their own fruits and vegetables in their backyards (victory garden, anyone?).
But as you might recall, so many people were buying seeds in a panic, a shortage ensued in some areas. The good news: If you've let your garden run amok this fall, then odds are it's bursting with seeds you can grab, store, and plant next spring.
To help, we've got smart advice from gardening experts on how to harvest seeds, including which fruits and veggies are best to target to get started. Here's to a delicious bounty next year!
Best fruits and vegetables for seed harvesting
Photo by Steve Masley Consulting and Design
If you're new to seed saving, start with annual vegetables and fruits, which should seed the fall after they've been planted. These include tomatoes, peppers, peas, beans, lettuces, apples, pears, and melons, says Susan Brandt, the master gardener at Blooming Secrets.
In contrast, biennial plants need two growing seasons to complete their reproductive cycle and produce seeds. These plants include beets, carrots, kale, collards, celery, and onions.
"A biennial plant needs to grow through the summer and winter season, well past when you would normally harvest them to eat," explains JT Wilkinson, maintenance care manager at FormLA Landscaping. And even if you're willing to wait two years, make sure you live in the right area for this to work.
"You need temperate weather so they winter over correctly without dying off," Wilkinson adds.
Photo by Lotus Gardenscapes & Bloom Garden Center
And don't save just any old seeds from your garden for resowing the next season. Avoid harvesting seeds from plants that were infected by disease or showed evidence of rot, says Brandt. The healthiest, most productive plants from one year will carry on these traits in their seeds into the next.
"And do not harvest seeds from hybridized plants because they may not produce the same variety," says Wilkinson. Hybrid seeds are artificial since they're made by crossing two strains and are meant for one planting season.
So which seeds should you save? Experts agree that heirlooms are your best bet. Heirlooms are the original, old-time variety of naturally pollinated seeds (that is, by birds, wind, and bugs) that have been passed down through the generations. Certain seed packets will tout their "heirloom" status, so you'll have to remember what you bought. Some companies—and most farmers—sell only heirloom seeds, so if that's where you bought yours last spring you're good to go.
The best time to harvest seeds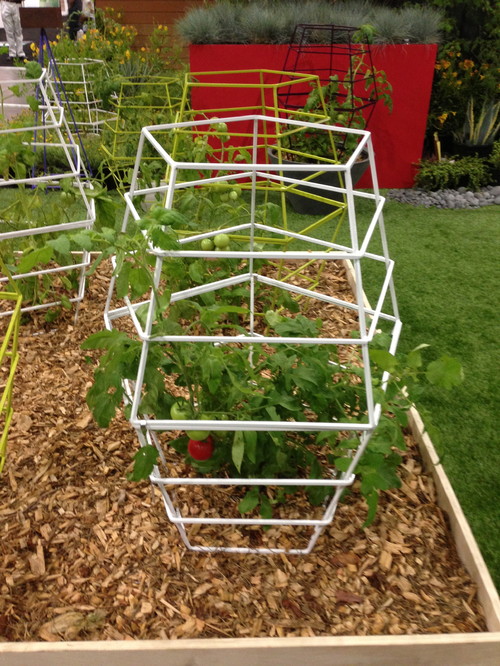 Photo by TerraTrellis
When it comes to seed harvesting, "ripe" doesn't mean "ready to eat." Instead, your plants are ripe when they're in the dried-out stage.
"For example, with a bean or pea, let the pods become completely dry on the vine so you can hear the seeds rattle around on the inside," says Brandt.
Peppers should start to shrivel up, cucumbers will become yellow, and squash will sport skin that's hardened—and then you slice open each one to scrape and shake the seeds out.
For soft veggies like tomatoes, cut away as much pulp as you can and place what's left in a bowl of water for a few days until the seeds fall to the bottom.
"Stir the bowl once a day, and then rinse and drain the seeds," says Brandt.
How to dry seeds for storing
Photo by Teracottage-Limited Edition Artisan Sheds & Such
Have a potting shed or a little space in your garage? These spots are ideal for seed drying.
"Use paper towels to absorb any moisture from the seeds, and then place them out of direct sunlight as that will dry them too quickly," says Wilkinson.
You can line sheet pans or baking sheets with towels or newspaper to dry your seeds, too.
"Make sure the seeds aren't lying on top of each other and that all the sides dry out evenly," says Brandt. The drying process can take as little as a couple of days to up to two weeks.
How to store seeds
"Once your seeds have dried, put them in envelopes or breathable bags made from paper or cloth," says Brandt.
Wilkinson thinks an airtight container is ideal, but envelopes will work if you're certain they'll remain dry (moisture can cause mold to grow) and that bugs and rodents won't find them for a snack.
The next (very important) step is to label all of your hard work—seed saving is a tedious process, alas.
"Write the crop type, variety name, and any useful notes about your seed source, such as when you harvested them and how many plants you took the seeds from," says Brandt. Stack your envelopes or jars in a drawer or in a box on a secure shelf.
How to 'wake' seeds before planting next spring
Photo by Shirley Bovshow
Yes—your saved seeds are kind of asleep in their little envelope beds, so it's recommended that you break this dormancy before planting them.
"Place the seeds in the freezer for about three hours, and then remove and expose them to warm air for a day," says Brandt. "This process will help them achieve their best condition for immediate planting."