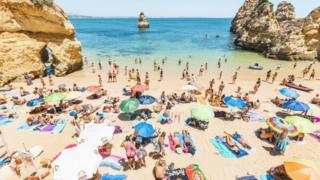 Ministers are considering reimposing quarantine measures for those arriving in the UK from Portugal as coronavirus cases rise, sources have told the BBC.
The country has recorded more than 20 cases per 100,000 people in the past week.
Normally when a country surpasses that mark the UK government imposes 14 days of self-isolation on returning travellers.
Ministers are expected to reach a decision on the measures by Thursday.
They will also have to decide whether the UK as a whole should follow Scotland, which has made a decision to add Greece to its own quarantine list, effective from 04:00 BST on Thursday.
It is the first of the four UK nations – each of which can add or remove countries to their own list – to make a decision on Greece, following several reports of people in the UK testing positive after holidaying on the island of Zante.
Wales, which says at least 16 people tested positive following a flight from the Greek island last week, says it has told passengers arriving on a plane at Cardiff Airport on Tuesday evening to self-isolate for 14 days.
Meanwhile, some travel industry leaders have suggested quarantine rules should only apply to people returning from specific regions where case numbers are high, such as resort islands – rather than having whole countries blacklisted.
It has been less than two weeks since Portugal came off the quarantine list and was put back on the UK's safe travel list, following a sustained period of falling cases in the country that put it below the "20 per 100,000" mark that satisfied the UK.
But now holidaymakers are scrambling to return from the country amid fears the country is again about to be taken off the list, based on the latest data.
EasyJet has sold out all of its flights from Faro – which serves the Algarve – to airports in Britain for Wednesday, Thursday and Friday.
And British Airways is selling seats on a flight from Faro to Heathrow on Thursday for £554, while the same journey can be made seven days later for just £139.
Thousands of people have travelled from the UK to Portugal since the country was added to the UK's quarantine exemption list on 22 August.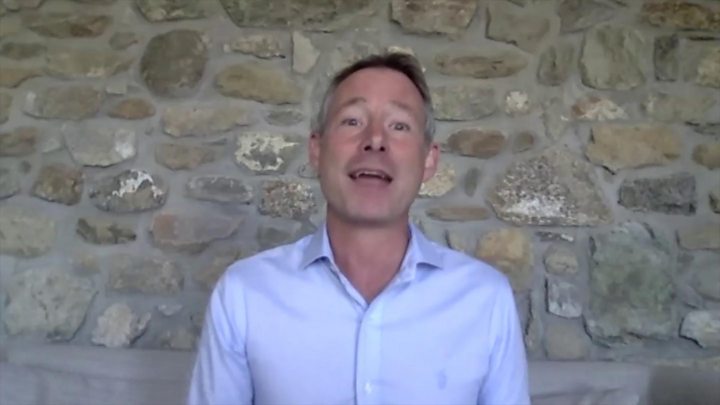 Portugal has recorded 21.1 virus cases per 100,000 people in the past week.
The UK considers imposing quarantine on travellers when a country's infection rate exceeds 20 cases per 100,000, over seven days.
Over the past month, so-called travel corridors – which allow people to travel without having to self-isolate on their return – have been scrapped between England and at least 18 countries and territories.
Ministers have said this cautious approach prevents coronavirus cases being imported.
Algarve tourists
Andrew Flintham, head of Tui UK, has said the government should consider "regional travel corridors" – meaning quarantine measures would apply to people returning from regions over whole countries.
He said there were fewer cases in the popular Algarve, where most tourists are, than elsewhere in Portugal.
Using the example of Leicester, the first area in the UK to be placed under local lockdown, Mr Flintham told the BBC: "In the UK we have a slightly different policy in the fact that we don't lock down the whole UK when the Leicester rate goes up.
"Can we apply the same kind of principle to almost allow us to operate to those places where the rates are low or are within those thresholds?
"We don't want to put anybody in danger but clearly it is not the same everywhere in a country," he added.
It is not the first time Tui has urged the government against slapping blanket quarantines on whole countries. Mr Flintham previously called for "regionalised" policy after quarantine measures were imposed on Spain in July.
The travel industry had hoped that the quarantine rules could be eased for the Balearic and Canary Islands, as data suggested there were lower rates of infection there than in mainland Spain.
Elsewhere, the boss of British Airways' parent firm, Willie Walsh, has accused the government of using "arbitrary statistics to effectively ban 160 countries and in the process destroying the economy".
The "ever-changing" quarantine requirements meant "the UK has officially hung up the 'closed' sign", he said, writing in the Times.
Last week, Switzerland, Jamaica and the Czech Republic joined France, Spain and a number of others on the UK's quarantine list.
UK tourists have spent thousands of pounds on new flights and ferries, and endured long drives in a race to get home before quarantine measures kick in.
The government has not commented on whether requirements for arrivals from Portugal will change again.
Tourists' tale: 'Difficult decision'
As soon as Portugal came off the quarantine list less than two weeks ago, John Cushing and his 12-year-old daughter Georgie headed straight out to the Algarve where he has a villa.
Now the quarantine rules look set to change, he's facing a quandary.
"It's very precarious at the moment," says the 61-year-old company director.
"My daughter and I won't be able to leave the house when we get back to the UK on Saturday and there's a risk of being fined because I won't be able to send her back to school on Monday.
"She's in tears because she wants to go back to school but Ryanair is charging £1,000 to get back before the possible cut-off point.
"It's a very difficult decision to make [to pay for the early flight home] and I'm not really enjoying myself here now."
Every year, more than two million Britons visit Portugal, making up the largest number of overseas tourists to the country.
Most head to the Algarve in the south, drawn by sunny Atlantic beaches, picturesque fishing villages and golf courses.
Over May and June, the Portuguese government reopened its restaurants, coffee shops, museums and beaches. Hotels have mainly reopened, but nightclubs remain closed.
The government has warned that stricter measures will be put in place in mid-September as pupils return to school and some workers return to offices.
As of 31 August, the UK recorded 24 coronavirus cases per 100,000 people over the past fortnight while Portugal recorded 35.7, according to the European Centre for Disease Prevention and Control.
Are you currently on holiday in Portugal? Have you made plans to travel there? Share your thoughts by emailing haveyoursay@bbc.co.uk.
Please include a contact number if you are willing to speak to a BBC journalist. You can also get in touch in the following ways:
WhatsApp: +44 7756 165803
Tweet: @BBC_HaveYourSay
Please read our terms & conditions and privacy policy