We're not going to mince words: This year has been a dumpster fire that makes us feel foolish for all the other times we whined about what a lousy year it was. And if you're anything like us, you're probably glad to see the calendar edge us closer to the end of this hellish spin around the sun.
But we don't want to just get through this month, and the fall season ahead. We want to enjoy what's left of this year! And we've got the perfect pick-me-up to do just that: a fresh new look in your home with the hottest decor on the market today.
We've consulted design experts to round up the hottest trends of the season. Whether you're looking to refresh your bedroom, or put a bold new spin on your living room, here's what will help you ride out the rest of 2020—in style.
1. White dining sets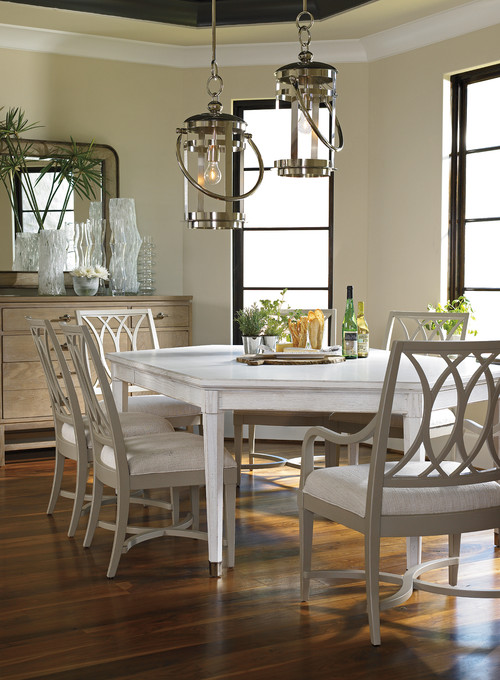 Not everything this season is about autumnal reds and oranges; in fact, we've seen a huge trend in white decor, like this all-white dining set.
"White dining sets are so versatile and a staple neutral," says Stephanie Purcell, owner of Redesigned Classics. "You can pair them with any color scheme and make a statement in the most subtle way. Whether you want to add lots of oranges and reds for a traditional festive fall look, or keep it natural with browns and creams, a white dining set works well with either."
Add one of these staple neutrals to your kitchen by shopping this Brookwood dining set from Wayfair.
2. Black and white buffalo plaid
Nothing says fall quite like a comfy plaid blanket. But rather than your typical red or green checked looks, this season we're seeing a huge push toward black and white buffalo plaid.
"This thick and chunky pattern is reminiscent of the Scottish tartan it hails from," says Purcell. "Nothing is cozier on a crisp fall night than snuggling up in a warm throw. But this pattern isn't just for blankets—it's also great on a throw pillow, curtains, or as an entryway mat."
3. Gray paisley wallpaper
"When you hear 'paisley,' you may think of vintage dated designs," says Natasha Nicolaou of NatNico Designs. "But these new wallpaper looks are anything but frumpy—allowing for a sophisticated and updated look with its sleek minimalist design."
___
Watch: These 3 Home Decor Touches Can Help Sell Your Home
___
In fact, gray paisley wallpaper is the hottest new neutral, designers say—it's easy to pair with a pop of color to create a soft but modern look.
Shop this Vivan Damask wallpaper from Wayfair to get this elegant updated look.
4. Canvas furniture
Who said outdoor living was only for the summer months? Spruce up your patio space for the fire pit nights ahead with a set of neutral canvas chairs.
"Versatile and natural, canvas is easy to clean and incredibly durable while still looking stylish," says Nicolaou. "Canvas chairs make great dining chairs, bar stools, and come in a variety of indoor and outdoor styles, which make them a perfect choice year-round."
"Canvas chairs, whether in a patio or a transitional living space, combine the best of the indoors and outdoors for a cozy and chic look," adds Jaime Huffman of Charleston Blonde.
Update your outdoor seating with a set of these Natural Frame canvas sling chairs from Home Depot, and then look for throw pillows or table runners with tassels or textural elements to keep the natural textured theme going, Huffman suggests.
5. Neutral vases
Whether you have an empty shelf or an end table that needs just a bit of zhuzhing up, a simple and earthy vignette might do just the trick.
"One of the easiest ways to instantly create an upscaled look in a design is with a grouping of neutral-colored vases," says Nicolaou. "The neutral coloring brings out the sculptural aspect of the vase and adds a sophisticated and elevated touch to any room."
Try a grouping of vases in varying heights on a dining table, paired with branches for a natural high-end look that takes seconds to put together, she adds.
Shop this collection of half-dipped stoneware from West Elm to bring this fall trend into your home.
6. Velvet
Velvet frequently makes its way onto our trending decor lists—and with good reason.
"In a room, velvet accents evoke a sense of luxury, warmth, and sophistication, perfect for crisp fall days and entertaining guests for the holidays," says Lauren Noel of LoveRemodeled.com. "This soft fabric is great on curtains, throw pillows, and even ottomans."
But buyer beware—as with most decor trends, velvet should be used sparingly.
"Don't add velvet to each corner of the room," Noel says.
7. Southwest-inspired wall hangings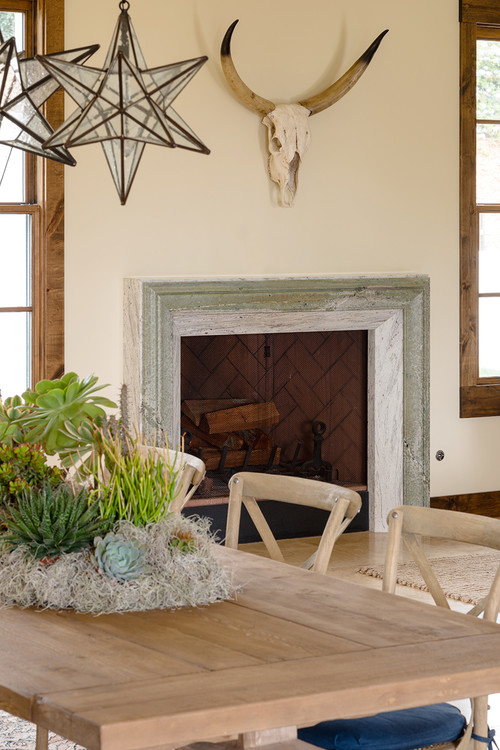 You might recall that Southwestern decor had its heyday in 2016 (oh, how we miss thee!), with entire homes decked out in Aztec print, warm colors, and longhorn skulls.
This fall, Southwestern decor is seeing a resurgence, designers say, but it's being incorporated in a more modern, eclectic way.
"Southwestern wall hangings are showing up more and more again as the interior design world has gotten incredibly saturated with bohemian rattan and greenery designs," Huffman says. "A longhorn skull is a way to maintain the natural, rustic feel of boho design in a way that's more unique and varied … and is the perfect way to add a bit of visual intrigue to your wall this fall.
"The mix between light and dark, feminine and masculine make it a totally trendy piece to incorporate in your interior design," Huffman adds. "Unlike traditional taxidermy, the whitewashed longhorn skull is bright and airy, as well as conveys a Southwestern style that pairs perfectly with warm fall tones."
Snag one of these chic and airy Southwest styles for your home by shopping this steer skull from Wayfair.